Appalachian Cares is your source for wellness, health and safety information, resources and support for the campus community.
Wellness, health and safety for all individuals is a top priority on App State's campus. As you navigate the challenges of student life, there are many dedicated people and excellent resources to help. This website is a good place to start.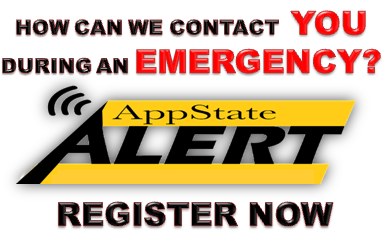 AppState-ALERT is the Appalachian State University 24/7 emergency messaging system, using a combination of text messaging, voice messaging, a siren warning system, email and web technologies.
Asking the Question - Appalachian State University Suicide Prevention Video
3 min. 57 sec.
Talking to a friend about suicide is scary. That's a normal reaction. It's OK if you don't know what to do. This video helps you learn what to do and how to access appropriate resources.
If you think a friend is considering suicide, you can get advice at the Counseling Center at Appalachian State University at 828-262-3180 or https://counseling.appstate.edu. Or you can call the National Suicide Prevention Lifeline (988). They will walk you through what to do. You don't have to face this alone.