28th Annual Walk for Awareness
Tuesday, Sept. 5, 2017 / 9 p.m.
Sanford Mall
Because rain is expected, the Walk has been moved to the Schaefer Center for the Performing Arts
The Walk for Awareness is a silent walk through campus to commemorate lives lost to violence in our community, to support victims and survivors of violence and to affirm our commitment and responsibility to speak out against violence in all its forms.
The night will start with music by the a capella group Enharmonix followed by Dr. Willie Fleming, chief diversity officer, speaking about the walk's history. Fleming was present at the first Walk for Awareness. Chancellor Sheri N. Everts will speak about the university's commitment and responsibility to be a violence-free community. Remarks will be provided by student leaders as to why they walk. Students, Chancellor Everts and Fleming will lead the community silently to the Schaefer Center for the Performing Arts.
At the Schaefer Center, a capella group Ear Candy will perform as students arrive. Vice Chancellor for Equity, Diversity, and Compliance and Title IX Coordinator Jordyne Blaise will share information about her role on campus. Blaise will introduce Dr. Shelley Clevenger, an assistant professor from Illinois State University whose areas of research interest include sexual assault, intimate partner abuse and cyber-victimization. Clevenger will speak about the possible impact of interpersonal violence on victims, their friends, family and community. Interpersonal Violence Support and Prevention Coordinator Ellen Grulke will close the event by sharing information about resources.
Rain location: Schaefer Center for the Performing Arts
Related Events
Preceding the walk, the video "Why Walk? A Survivor's Story" will be shown in I.G. Greer Auditorium at 8 p.m. This video provides insight into the incidents that occurred in 1989 that led to Appalachian's first Walk for Awareness.
Earlier in the day, from 3 to 4 p.m., Claude Cooper, father of Leigh Cooper Wallace, will sign copies of his book, "Finding Strong," in the University Bookstore. "Finding Strong" was a project Wallace was writing with him when she passed away in 2012. Cooper finished it. Books will be available at the signing, and will also be available at the Schaefer Center for the Performing Arts after the Walk for Awareness.
About Dr. Shelley Clevenger
Dr. Shelly Clevenger is an assistant professor at Illinois State University. Her research interests include sexual assault, intimate partner abuse and cyber-victimization. She has authored peer-reviewed publications on these topics appearing in such journals as Feminist Criminology, Sexual Abuse, The Security Journal, and The Journal of Criminal Justice Education, Journal of School Violence, and Contemporary Rural Social Work, with further upcoming journal publications. Clevenger has also served as an editor, as well as contributor, for the edited volume "The Virtual Enemy: The Intersection between Intimate Partner Abuse, Technology, and Cybercrime."
Clevenger presented her research on survivors of sexual assault and intimate partner violence and the connection to cyber-victimizations at a special research panel at the United Nations Women Conference in December. She also has had speaking engagements throughout Illinois on her work and activism. Currently, she is continuing her qualitative research with survivors, with a focus on LGBTQ survivors, as well as a special project interviewing mothers who have had children conceived during rape and then went on to raise that child. Clevenger has a forthcoming victimology textbook to be published by Taylor and Francis, as all as a teaching theory book to be published by Cognella in 2018, and "Gendering Criminology; Crime and Justice Today," a book focusing on gender, to be published in 2019 by University of California Press. She has received college and university faculty teacher of the year awards at Illinois State and the American Society of Criminology, Division of Victimology, Outstanding Teaching Award.

2016 Walk for Awareness in Pictures

History of the Walk for Awareness at Appalachian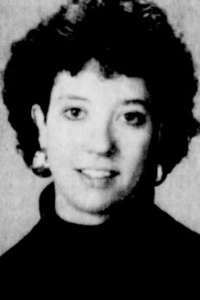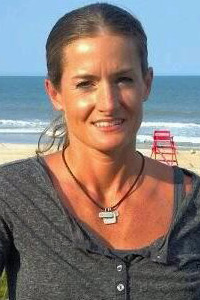 Appalachian State University's Walk for Awareness, first walked in 1990, is a community-building commemoration event held on Sanford Mall. Each year, hundreds of Appalachian students, faculty and staff come together to commemorate lives lost to interpersonal violence, support victims and survivors, and affirm our commitment to making the Appalachian community safe from interpersonal violence.
On Sept. 29, 1989, Leigh Cooper Wallace, then a 20-year-old Appalachian student, went on an early-evening run and was abducted at gunpoint and sexually assaulted by the same man who five days earlier had raped and killed Appalachian staff member Jeni Gray. Leigh escaped that night, and her testimony against her attacker was key to his arrest and conviction.
Leigh did more than survive her attack. She thrived, and helped her community thrive as well. A distance runner, she graduated in 1992 with a degree in exercise science, and stayed in the High Country, becoming a teacher and coach at Watauga High School, and a well-respected role model in our community. She often shared her story, and became an inspiration to countless others.
When the Walk for Awareness began in September 1990, more than 500 people attended to remember Jeni Gray. On that night, Leigh Cooper Wallace, who was still a student, spoke to the Appalachian Family. We had lost a beloved member of our staff, and she helped us find closure. She shared her strength with her university and our community, and we gladly accepted it. By sharing her strength, she made us stronger. The next year, we walked again, and today, this annual ritual has become an important part of our university's culture. Tragically, in 2012, Leigh died from a sudden illness, but her inspiration lives on.
Leigh's legacy is about the importance of community. Her story is Appalachian's story, and because of this, each year, on Sanford Mall, to commemorate her part in our community, for a quarter of a century, from this very spot, the Walk for Awareness has begun a journey of awareness and inspiration for countless Appalachian students each year.
"Over the years, the Walk for Awareness has transitioned and has become a university legacy event calling on our community to be violence free." - Judith Haas, associate dean of students.

Why Walk?
The video "Why Walk?" was produced in 2009 to commemorate the 20th anniversary of Appalachian's Walk for Awareness. Through interviews with founder Barbara Daye and other campus participants, this video recounts the genesis of the Walk and explores the impact that it has had on our campus.
In 1989 after the disappearance of two young women in the town of Boone, NC, campus leaders at Appalachian State University banded together to create an annual event to inform the community and promote personal safety.
The "Walk for Awareness" occurs on the first Tuesday each September and is held in the memory of Jeni Gray and to honor survivors like Leigh Cooper-Wallace.
In 2009, the "Walk" celebrated its 20th anniversary...
This is its story.
Barbara Daye, Dean of Students, Emeritus, Founder of the Walk: My name is Barbara Daye and I'm Dean of Students, Emeritus at Appalachian State University. I was here working at Appalachian when Jeni Gray disappeared. It became important to me for us to remember Jeni, and to remember how we felt when Jeni disappeared, and to remember Jeni and honor her memory.
Susie Greene, Dean of Students (Walk Coordinator): The climate of the University in 1989—I was working at the counseling center—and, for me, it felt like things were in disarray. There was a lot of turbulence, there was a lot of violence and there was just a lot of questioning and worry. We were very busy at the counseling center. I think that both professionally and personally it was a hard time for everyone here.
Barbara Daye: When we began to think about the first Walk, I think that in some ways I was almost overwhelmed, because there was so much that we had to do because you're starting from the very beginning. Will anybody want to do this? Who will want to help? How will we get this started? Will anybody even want to participate? With this walk, because there were so many people who loved and cared for Jeni, it was really easy to find people to come about and say "Yes, I will help."
Susan King, Program Specialist, Equity Office (Walk Coordinator): What's involved in the Walk for Awareness is a really vibrant and dynamic committee who work together, probably, for about six months in front of each Walk for Awareness to coordinate all of these aspects and we don't ever have a rehearsal—that's one of the most interesting things about it. There are speakers, there is a crowd, there is backup sound, there are lights, two destinations, two locations and sometimes 3,000 people moving between them. To do all of that without a run-through is pretty ambitious.
Suzette Patterson, Assistant Director, Gender Education and Multicultural Student Development: We talk about what we want to accomplish each year and how we want to reach out to students—what message we want them to hear. We talk about keynote speakers and themes and graphic identities and those kinds of things, so that we can create an environment for students where they have a sense of responsibility, of being part of our community and also so that they know where they can get help or can refer a friend to help if they need it.
Steve Wilson, Special Agent in Charge (NC State Bureau of Investigation: The Walk for Awareness, I believe, allows people in the community to become focused on the need to be careful in their daily activities and also gives them an awareness of those around them who may not be so fortunate, who find themselves victims of crimes of violence.
Susie Greene: I think safety is an issue for each of us and we live in, what I consider, a very, very safe community, but we need to always be aware because there are just issues and situations that we can't control.
Dr. Denise Lovin: The mood of the Walk is one of reflection, sometimes one of sadness, sometimes one of empowerment, sometimes a mood of hope, and what is powerful is that hopefully everyone together at this one moment during the Walk for Awareness can sort of be on the same page with that.
Susan King: There's a weight that people bring into that space and the silence is not absolute during the gathering phase, but it is beginning and then we hear speakers—we hear the chancellor, we hear the dean of students, we hear the coronator of the Walk, and we hear a keynote speaker, and then we're called to silence. And then the chime rings every two minutes to commemorate a life lost to violence in our country. And then, for the next fifteen or twenty minutes, a couple thousand people walk quietly and at the next destination a student speaks and sometimes that student is himself or herself a survivor of violence. Just for a couple thousand people to be quiet in this day and time for any length of time is a rather extraordinary thing. And when the subject matter is life and death, it becomes palpable, the message and the meaning become palpable in the silence.
Susie Greene: I think the Walk for Awareness has provided a venue for people to see that, if they have been a victim, that they're not by themselves. That there are other people and other resources they can reach out to to get the help and support they need to heal. I think Leigh Cooper-Wallace's message is certainly one of healing and one of talking about how her experiences not only have led her in her life, but also in her work with her family. I would hope that that message could be shared with other victims, so that if they have remained silent, they can reach out to others so that they can continue that healing process.
Dr. Denise Lovin: The Walk has changed people's perceptions of violence and personal safety by empowering them that they can make a difference, we don't just have to be a victim. So the idea is that it's not an issue that's going to go unnoticed. That as a campus we have made the commitment to take care of each other, to promote respect, to promote safety, so that if and when we do confront violence, we are going to do something about it.
Susan King: There's an enormous support system for students, but even with a support system, even in a lovely place, terrible things sometimes happen. Sometimes they can't be avoided, all the right choices are made and tragedy still occurs.
Steve Wilson: The Walk for Awareness is an excellent avenue to remind people of that need to be constantly aware of your surroundings and the potential for danger wherever we are, whatever the occasion may be.
Suzette Patterson: I think the Walk is important to our campus for a variety of reasons. One, so that we'll never forget Jeni and Leigh and what they went through and what they offer to us. I think that we don't want their lives, and the struggle that each one of them went through, we don't want that to be in vain. I think that it is a community-building event that we do at the beginning of each year that we really try to use as an introduction to our community. Welcome to Appalachian. You're part of our family and, as part of our family, we are going to protect you and we are going to help you when you're struggling. But you also have some responsibilities as part of our family, and that is to stand up and say something if you see something happening that shouldn't be happening. Help someone else out if they are in need.
Dr. Denise Lovin: The Walk is important because it tells a story that everybody should know and it promotes the awareness of safety and how as a community, we can work together to enhance our lives and the lives of others. That nobody is alone.
Susan King: I think the Walk for Awareness is an annual call that we notice—that we pay attention—not only to what's happening around us, but to the impact that we can have on what's happening around someone else and their experience at ASU.
Barbara Daye: I hope that this tradition of the Walk for Awareness will continue. I think it's a positive way to begin a school year. I think it's a way for us to come together as a community. I think it also is a way for us to hear about services, resources, people that can help us. I think it's also important to hear people speak about what has happened with them, how they have overcome the notion of "I'm no longer a victim, I'm now a survivor." I think that it brings hope to people and I think that as long as we perceive that the Walk for Awareness is helping do that, I think it will continue.
In loving memory of Jeni Gray and all the people touched by violence everyday.